The Critical Urgency Of Turning Around Pakistan's Broken Education System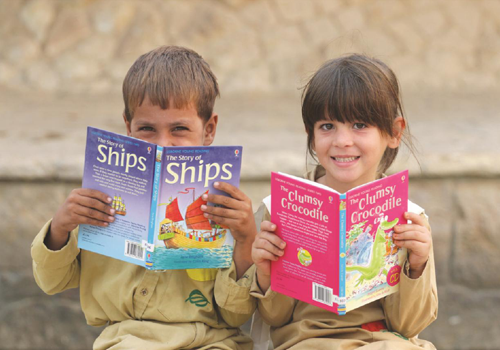 Photo: Asianet-Pakistan/Shutterstock
Over a third of Pakistan's population is under the age of 15, yet it has the world's second highest number of children out of school. Pakistan's youth could be the nation's greatest asset – or its biggest liability. Turning around Pakistan's broken education system holds the key to a more peaceful and prosperous future for a country in one of the world's most volatile region
Danial Noorani


Chief executive officer, The Citizens Foundation, USA

Michael Kugelman


Senior fellow, Asia Program, Woodrow Wilson Center
Faisal Bari


Country director, Open Society Foundations

Jumaina Siddiqui


Program manager – Pakistan, National Democratic Institute

Ahsan Salim


Founding director, The Citizens Foundation

Dr. Irfan Muzaffar


Researcher, Education & Social Research Collective

Bruce Reidel


Director and senior fellow, Brookings

Saad Rizvi


Senior vice president, Pearsons

Dr. Liesbet Steer


Fellow, Brookings Center for Universal Education

Dr. Douglas Johnston


President and founder, International Center for Religion & Diplomacy

Baela Raza Jamil


Team leader, ASER Pakistan

Mushtaq Chhapra


Chairman & founder, The Citizens Foundation
Woodrow Wilson International Center for Scholars,
1300 Pennsylvania Ave NW, Washington, DC 20004
October 8, 2014
8:30am Registration and continental breakfast
9:00am Welcome and Opening Remarks


Danial Noorani, CEO, The Citizens Foundation, USA
Michael Kugelman, Program Associate, Woodrow Wilson Center for Scholars
9:15am Impact of the "Right to Free and Compulsory Education Bill" and "Devolution" on education reform.


Faisal Bari, Country Director, Open Society Foundations Public Sector.
9:35am Public Sector. How Pakistan's political parties are approaching education reform. The role of international donors, and their interaction with the political parties and provincial governments. Education Sector Plans of the Sind Government.


Jumaina Siddiqui, Program Manager-Pakistan, National Democratic Institute
9:55am TCF model: providing a quality education, at a low cost in formal schools.


Ahsan Saleem,Founding Director, The Citizens Foundation (TCF) Private non-profit sector.
10:15am Coffee Break
10:30 School adoption as an option. Other forms of partnership. The growth of the low fee for-profit private sector.


Irfan Muzaffar, Researcher, Education & Social Research Collective Public – Private Partnership
10:50am PANEL DISCUSSION and Q&A-Education Reform the right mix.


Faisal Bari
Ahsan Saleem
Irfan Muzaffar
Jumaina Siddiqui
Fouzia Saeed
Investing in public versus private schools. Investing in formal versus informal education.
11:50am Lunch break. (11:50 – 12:20)
12:20 to 12:35 "Radicalization of Youth and Growth of Extremism"


Bruce Reidel,Director & Senior Fellow Brookings Keynote Address.
Afternoon Session: LESSONS TO BE LEARNED
Successes and Hurdles in Education Reform, what should be duplicated and what needs to be avoided.
12:35 pm The Punjab Education Reform Initiative. Lessons for the other provinces of Pakistan.


Saad Rizvi,Senior Vice President, Pearsons
12:55pm The education reform experience in Bangladesh. Lessons learnt.


Dr. Liesbet Steer,Fellow, Brookings Center for Universal Education
1:15pm Madrasa Reform in Pakistan, successes, failures and the way forward.


Dr. Douglas Johnston,President/Founder, International Center for Religion & Diplomacy
1:35pm Reforming the gender gap in Pakistan's education landscape. Corollary benefits of educating girls. Measuring the progress of education reform.


Baela Raza Jamil,Team Leader, ASER Pakistan. Director, ITA
1:55pm Coffee Break
2:10pm PANEL DISCUSSION and Q&A – What have we learned from our experience in education reform and how can it be applied to accelerate Pakistan's road to education recovery.
Dr. Liesbet Steer
Saad Rizvi
Dr. Douglas Johnston
Baela Raza Jamil
3:10pm Guest of Honor
3:30pm Closing Remarks


Mushtaq Chhapra,Chairman, TCF
3:45pm Adjourn
3:45pm Media Reception & Press Conference