Pakistan's Accelerating Urbanization
November 6th, 2013 // 9:00am — 4:00pm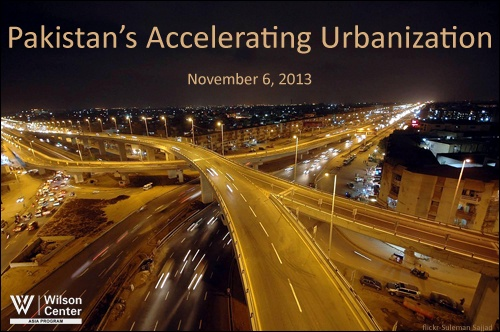 Event Speakers:
Murtaza Haider

Ryerson University

Sania Nishtar

Heartfile

Nadeem Ul Haque

Center for Growth, Creativity,
and Entrepreneurship

Mohammad Qadeer

Queens University

Nadeem Hussain

Tameer Microfinance Bank

Aun Rahman

Harvard University

Ahsan Iqbal

Minister for Planning, Development,
and Reforms, Government of Pakistan

Tasneem Siddiqui

Saiban
Event Summary
Pakistan's future will largely be written in its cities. Today about a third of Pakistan's population is urban-based, but that figure is expected to increase to nearly 50 percent within a dozen years. Recent data shows that Karachi's population grew by 80 percent between 2000 and 2010—the largest such increase of any city in the world. Pakistan's accelerating urbanization presents huge challenges but simultaneously offers the country a way out of its present multiple dilemmas.
The express purpose of this conference is to generate new ideas and methods those that go beyond calls for more public funding for dealing with a phenomenon that is already well in place and is not going to be halted.
This conference has been organized by the Wilson Center's Asia Program, with co-sponsorship from the Comparative Urban Studies Project and with generous support from the Fellowship Fund for Pakistan.
Please mark the date on your calendar, and look to our website in the coming weeks for the conference agenda and more details. >> Read more
5th Floor, Woodrow Wilson Center