The Pakistan Scholar Program
The Pakistan Scholar Program is the center point of the Wilson Center's Pakistan initiative. The fellowship competition is open to men and women from Pakistan or of Pakistani origin. Applications are accepted from individuals in academia, business, journalism, government, law, and related professions. Candidates must be currently pursuing research on key public policy issues facing Pakistan, research designed to bridge the gap between the academic and the policy making worlds. The selection process is a two-tier process, consisting of application evaluation and personal interviews conducted by an independent, international Advisory Council of the FFFP, composed of eminent individuals from the fields of politics, diplomacy, business, economics, academia, and journalism, and followed by final selection by a Wilson Center selection panel.
The Woodrow Wilson International Center for Scholars is the living, national memorial to President Wilson established by Congress in 1968 and headquartered in Washington, D.C. The Center establishes and maintains a neutral forum for free, open, and informed dialogue. It is a nonpartisan institution, supported by public and private funds and engaged in the study of national and world affairs.
Press Release
Wilson Center, Fellowship Fund for Pakistan Join Forces to Expand Study of Pakistan in Washington, D.C.
December 15, 2003
WASHINGTON, D.C.— The Woodrow Wilson International Center for Scholars, in collaboration with the Fellowship Fund for Pakistan (FFFP), a charitable trust based in Karachi, announced today a significant expansion of the Center's Pakistan programming. In a ceremony at the Wilson Center, the Honorable Lee H. Hamilton, president and director of the Wilson Center, and Munawar Z. Noorani, FFFP chairman, signed an agreement that lays the foundation for a greatly expanded focus by the Center on Pakistan, Pakistan's economy, and U.S. -Pakistani relations. >>Read More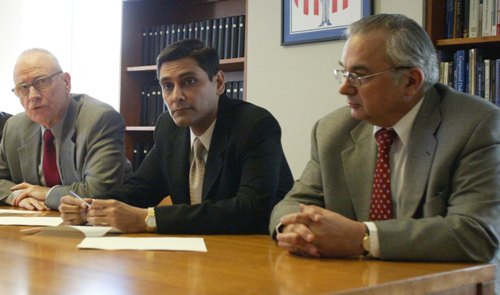 (L to R) Director Woodrow Wilson Center Lee H. Hamilton, Chairman FFFP Munawar Z. Noorani, Pakistan Ambassador to US Ashraf Jehangir Qazi