Wilson Center Appoints Ambassador Maleeha Lodhi Public Policy Scholar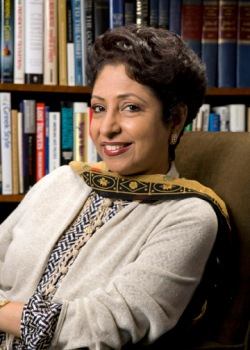 The Woodrow Wilson International Center for Scholars, in collaboration with the Fellowship Fund for Pakistan (FFFP), a charitable trust based in Karachi , today announced the appointment of Ambassador Maleeha Lodhi as a Wilson Center Public Policy Scholar. Lodhi will spend nine months in residence at the Wilson Center , beginning in September 2009, carrying out research for a book looking at the internal and external challenges Pakistan has faced since 2001.
Lodhi twice served as Pakistan's ambassador to the United States , in 1994-97, and again in 1999-2002. From 2003 until 2008, she held the post of Pakistan 's High Commissioner to the United Kingdom . From September-December 2008, she was a Fellow at the Institute of Politics at Harvard University 's Kennedy School . Prior to her diplomatic service, she was a journalist and editor successively of the Muslim and the News , two of Pakistan 's leading dailies. In the 1980s she taught at the London School of Economics and Political Science, where in 1980 she had earned a Ph.D. in politics. She is the author to two books, and is a regular columnist on national and international affairs in the Pakistani and international press.
Each year the Wilson Center appoints several outstanding scholars and practitioners to be in residence as Wilson Center Public Policy Scholars. These men and women hold residential awards enabling them to work on issues involving some aspect of public policy that is highly relevant to a program or activity of the Center.
The Fellowship Fund for Pakistan was established in 2003 to provide Pakistan 's most eminent thinkers with opportunities to participate in international deliberations on current and future issues facing Pakistan through dialogue with global opinion leaders and policymakers, scholars, and other experts. FFFP seeks to promote non-partisan scholarship at international forums in order to encourage free, informed and serious dialogue on issues of public interest to Pakistan and the United States .
The Woodrow Wilson International Center for Scholars is the living national memorial to President Wilson established by Congress in 1968 and headquartered in Washington , D.C. The Center establishes and maintains a neutral forum for free, open, and informed dialogue. It is a nonpartisan institution, supported by public and private funds and engaged in the study of national and world affairs.