Pakistan's Interminable Energy Crisis: Is There Any Way Out?
July 23, 2014 // 9:15am — 4:00pm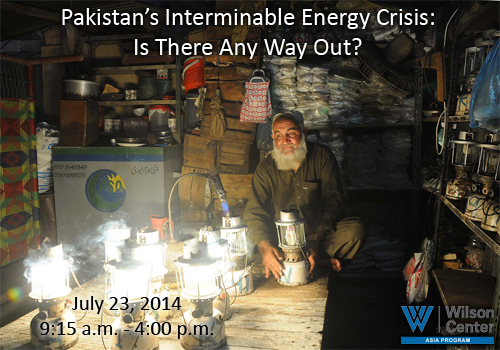 Photo: Asianet-Pakistan/Shutterstock
Pakistan is plagued by a deep energy crisis—one with troubling consequences for its fragile economy and volatile security situation. Islamabad, in fact, has described energy as a greater challenge than terrorism. Energy is also a major public concern. Recent polling finds that more than 90 percent of Pakistanis are worried about energy shortages.
This conference seeks to capitalize on the urgency of the crisis. It will focus on steps that can and should be taken in the immediate future to address both supply- and demand-side aspects of Pakistan's energy conundrum. It will also propose actionable recommendations for Pakistani policymakers. Additionally, it will address implementation hurdles and how to overcome them.
Learn more about the participents and speakers here. This conference has been made possible through the generosity of the Fellowship Fund for Pakistan.

Global Sustainability and Resilience Program
Javed Akbar


chief executive, Javed Akbar Associates (Private) Limited

Ziad Alahdad


former director of operations, World Bank

Akhtar Ali


chief executive officer, Proplan Associates

Shannon Grewer


managing director, EMI Advisors LLC

Robert Hathaway


Director, Asia Program

Nargis Sethi


secretary for water and power, government of Pakistan

Michael Kugelman


Senior Program Associate for South and Southeast Asia, Asia Program

Robert Lesnick


senior natural gas consultant, World Bank

Musadik Malik


advisor to the prime minister on water and energy, government of Pakistan

Khalid Mansoor


chief executive officer, The Hub Power Company Limited (HUBCO)

William B. Milam


Senior Scholar
Former Senior US Diplomat and Specialist in South Asia and West Africa. Ambassador to Pakistan (1998-2001); Ambassador to Bangladesh (1990-93); Chief of Mission in Liberia (1995-98); Deputy Assistant Secretary for International Finance and Development (1985-90)
8:45 Registration and coffee
9:15 Welcoming remarks


Robert M. Hathaway, director, Asia Program, Woodrow Wilson Center
9:30 Opening address: A view from Islamabad


Musadik Malik, advisor to the prime minister on water and energy, government of Pakistan
Chair: Robert M. Hathaway, director, Asia Program, Woodrow Wilson Center
10:30 Morning panel: Securing the right sources of energy


Khalid Mansoor, chief executive officer, The Hub Power Company Limited (HUBCO)
Coal
Robert Lesnick, senior natural gas consultant, World Bank
Oil and gas
Shannon Grewer, managing director, EMI Advisors LLC
Coalbed methane, geothermal, and small hydro
Chair: Michael Kugelman, senior associate for South Asia, Woodrow Wilson Center
12:30 Luncheon
1:00 Luncheon address: Pakistan's power sector reforms


Nargis Sethi, secretary for water and power, government of Pakistan (via video conference)
Chair: William B. Milam, Senior Scholar, Woodrow Wilson Center
2:00 Afternoon panel: Energy (mis)governance


Ziad Alahdad, former director of operations, World Bank
Energy bureaucracy
Akhtar Ali, chief executive officer, Proplan Associates
Energy pricing and efficiency
Javed Akbar, chief executive, Javed Akbar Associates (Private) Limited
Implementation hurdles and political will
Chair: Robert M. Hathaway, director, Asia Program, Woodrow Wilson Center
4:00 Adjournment

Reference: Wilson center